You are here:
Soma Technology Inc.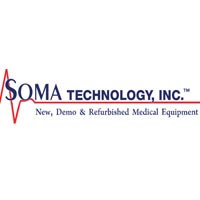 Address:
Bloomfield Connecticut
Type:
Manufacturer, Supplier, Manufacturing Partner, Production
Business Details

Map

Reviews
Soma Technology, Inc. was founded in 1992 by two young biomedical entrepreneurs that identified a market need for high quality medical equipment at affordable prices and supplied by a local company. The company was first located in a small office in Rocky Hill, CT serving facilities in the central Connecticut area employing only a handful of dedicated employees.
Just within 5 years, Soma Technology, Inc. had expanded its market reach to serve facilities around the New England area and developed enough customer relationships and brand awareness resulting in its move to a new, larger facility in Cheshire, CT in 1996, where it could accommodate a larger inventory and more team members. This move allowed Soma Technology to continue to expand its product line and by the late 90s Soma Technology, Inc. had become a worldwide supplier of new and refurbished medical equipment setting the standards for the industry In order to accommodate its resounding success, increasing demand and a growing team, Soma Technology, Inc. relocated its headquarter to a brand new, state of the art facility in Bloomfield, CT in 2008, where it houses the largest inventory of medical equipment in the industry.