Healthcare Events & Exhibitions
Events
section of
Global Healthcare Technology
is the leading reference guide for
Healthcare events, Healthcare conferences and Medical Expos & exhibitions
. This listings are with brief details like
date
,
venue
and
registration link/website
of
Healthcare conferences, Summits, Tradeshow /Hospital Equipment Expos or Shows, other health community events
along with the name of organizers who conducts events.
Want to list your event?
Post Your Event
— Or For any customized packages, reach Media Manager,
AnneFrank
01 Dec 2019 - 06 Dec 2019
| Organizer:

RSNA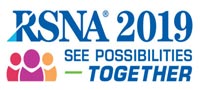 Join the brightest minds in radiology as RSNA sets the stage for its annual meeting, the most important event in radiology. Be the first to know when registration opens. Plus, start planning now and get the best hotel rooms and rates. Reserve through RSNA and save.
19 Oct 2019 - 23 Oct 2019
| Organizer:

ASA
At the American Society of Anesthesiologists (ASA), we take pride in our dedication to raise and maintain the standards of the medical practice of anesthesiology and to improve patient care.